Tri-Paragon Inc. 130 King Street West, Suite 1800, P.O. Box 427, Toronto, ON Canada M5X 1E3
Phone: 416.865.3392 Email: info@triparagon.com
10 DCIM Benefits For Data Centre Service Providers (i.e. Cloud or Co-Lo)
This article provides a list of ten benefits that are available to Data Centre Service Providers that choose to implement a Data Centre Information Management System (DCIM). Many of the benefits are also valuable to the service providers' customers and provide a means to differentiate the service provider from competitors. In addition to helping the service provider reduce overall costs and on-board new customers faster, it also helps their customers better manage their infrastructure.
10 DCIM benefits for DC Service Providers:
Provides the ability to collect real-time data from facility infrastructure and IT equipment, providing operational insight into resource capacity planning as new customers are added (or deleted.

Drawings of floor, rooms, cages and facility infrastructure are loaded into the DCIM Software creating a virtual data center for build-out planning and faster on-boarding of new customers.

Enables better management of the data centre facilities by consolidating all the information needed to make smarter, faster decisions for infrastructure planning and the day-to-day management of hosted equipment.

DCIM solutions automatically extract current energy usage and accurately display overall trending information. In many cases after deploying DCIM for monitoring, data center operators – for the first time – receive a holistic view of their entire energy consumption, coupled with a trending pattern to help spotlight areas of concern.

Using a DCIM, data center operators can pinpoint where they have unused physical, power and cooling capacity, allowing these to be planned and optimized, without overloading or exceeding power, space or cooling limitations allowing the data center to be used to its full potential.

Cutting energy usage will help Data Centre service providers save significant money and become more competitive. To reduce energy consumption, it must first be accurately measured. The measurement must start with a baseline view of what energy every part of the data center is actually consuming. And to be accurate, this view must include all areas such as IT equipment, power distribution infrastructure, and ventilation/cooling infrastructure. Without a DCIM this is an often time-consuming and manual data extraction process which is outdated and flawed.

Since many data centers are designed with substantial redundancy to optimize uptime, availability and to handle potential peak loads that have yet to be experienced, there is substantial inefficiency built into the infrastructure. After implementing DCIM, many data centers are able to reduce their power consumption by 15-25 percent, or more.

Power consumption data can be used to offer measured power billing to customers.

Performance data collected by the DCIM can be used to verify Service Level Agreement (SLA) compliance.

Customers can use the data to manage their equipment (alarms & events, moves, adds, & changes, etc.)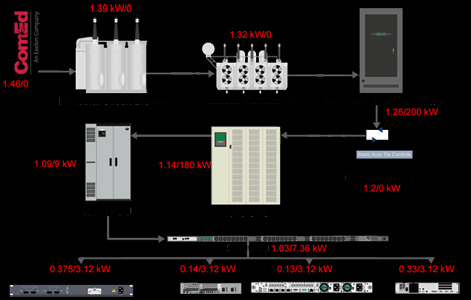 Altima NetZoom, the most comprehensive DCIM software solution available for managing your data centres, is available with implementation services in Canada through Tri-Paragon Inc. This software product enhances our products and services for our data centre customers and enables us to provide a complete Data Centre Information Management solution including:
Visual Asset Management

Power and Thermal Management

Trends and Forecasting

Capacity Management and Monitoring

Filters and Tenants

Connectivity Management

IT and Facility Infrastructure modelling

Lifecycle Management

Asset Inventory Collection and Audit

Device Discovery and Real Time Power and Thermal Monitoring

Alert Management

Change and Work Order Management

Reports, Diagrams and Dashboards

Role Based Security
NetZoom reduces your costs through improved uptime by identifying potential outage risks before critical situations occur thus protecting your SLA's. Operational costs are reduced by optimizing power consumption. Identifying and controlling space fragmentation and rack density postpones or prevents unnecessary and costly data center retrofits and build outs for your customers. Data center investment is maximized by redeploying underused, unused and ready to decommission devices.
Operational efficiency is increased by effectively managing power, thermal and space capacity. Servers considered for virtualization can be quickly identified. IT and the facility infrastructure personnel can more easily collaborate and visualize data center resources and information.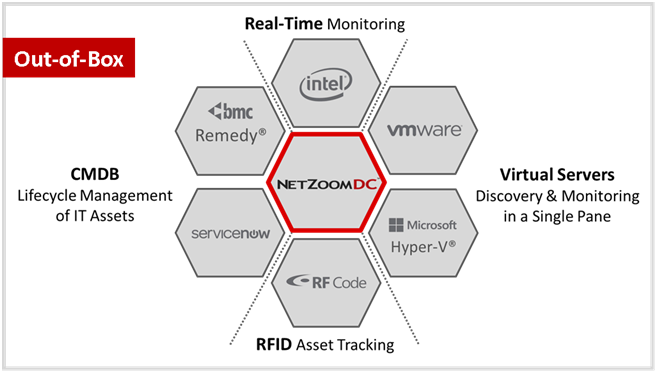 Troubleshooting time is reduced by knowing at the voices location and cabling layout beforehand. In addition, advanced monitoring, alerts management and detailed device change management logs reduce meantime to resolution when a problem occurs. What-if impact analysis enables capacity planning and control.
User experience is improved by the simplification and automation of daily operational tasks and processes associated with managing a data center. Data center professionals are empowered to analyse problems efficiently through the use of advanced the dashboards, analytics, monitoring, and powerful alerts management. The ease of use of the NetZoom application empowers data center personnel and improves user experience overall.
NetZoomDC is the most cost effective DCIM software solution on the market. NetZoomDC is full featured, providing all the features required for data center management including easy integration into other IT, BMS and workflow applications using the open schema and SDK.
For additional details on this product and other data center services available from Tri-Paragon Inc. please contact us by email at info@triparagon.com or by calling us at 416.865.3392. Please view our website at www.triparagon.com. Download our Data Centre Products and Services Brochure by clicking the button below.