Tri-Paragon Inc. 130 King Street West, Suite 1800, P.O. Box 427, Toronto, ON Canada M5X 1E3
Phone: 416.865.3392 Email: info@triparagon.com
Data Center Infrastructure Management
Power and Energy Management
(Part 2 of DCIM - NetZoom Enterprise Edition)
The rising cost of energy and pressure for facilities to become more efficient is quickly driving data centers to adapt solutions to better manage and plan for their day to day operations. A successful DCIM solution deployment allows a manager to understand, manage and optimize the myriad amounts of data under their control.
Energy Costs in Canada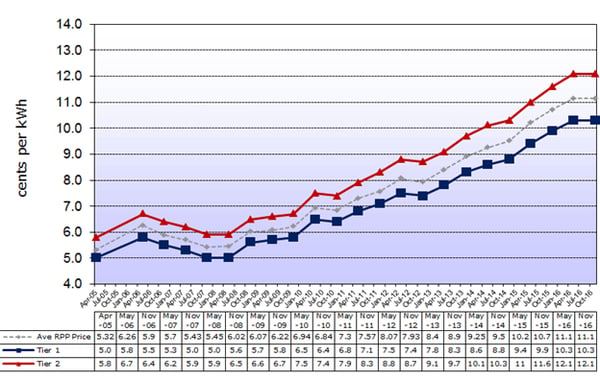 Aside from data center infrastructure assets management, the single most important requirement of a DCIM application is power optimization and features involving power management. Effective power management and optimization instantly results in savings at all levels of data center operations.
Power management techniques for reducing IT energy consumption can provide significant opportunities for operational cost savings and other business value. To maximize effectiveness in the data center, however, a holistic approach must be employed that identifies, monitors, and addresses all applicable energy-consuming components. Utilizing NetZoom Enterprise can overcome the most challenging inhibitors to implementing "green IT" initiatives.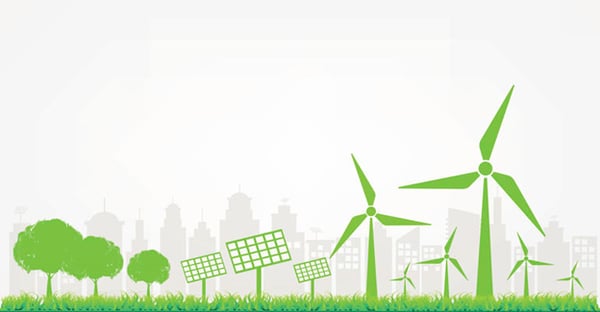 Green IT solutions are products, services, and practices designed to improve the efficiency of computing resources in such a way as to reduce the environmental impact of their utilization. Founded on the "triple bottom line principle," green IT solutions address economic, environmental, and social impacts of IT deployment. Today's economic realities underscore the need to reduce expenses associated with increased IT power requirements. Significant savings can be achieved with energy reduction solutions, often justifying the implementation cost of the solution in less than a year.
Although economics is the primary driver for implementing energy efficient IT solutions, the value is by no means limited to the financial advantages. For instance, a major challenge exists for organizations that have reached the limit of available power for their facilities. Typically, these impact data centers that were initially designed for capacities below current business IT demand. By limiting growth in the data center, these enterprises must either reduce existing power consumption, expand to the public cloud or risk limiting the growth of their business.
The marketing value of implementing power reduction solutions should not be underestimated. Not only do businesses often receive free publicity in mainstream markets, but publically traded enterprises that are energy efficient become more attractive to fund managers looking for fiscally and/or socially responsible investments. Regardless of which value proposition provides the greatest driver for introducing power management initiatives, it is clear that introducing energy efficiency solutions specifically for information technology implementations can achieve quantifiable returns on investment for the business.
Reducing data center power consumption has emerged as the primary focus of many organizations. Managing power usage is the first step in improving the efficiency of any data center.
Understanding the power chain helps data center operators visualize the power resource distribution across the data center. Power Trace diagrams provide a comprehensive view of power utilization and allow customers to diagnose power provisioning issues and their location.
Power Trace Diagram
Optimize Power at the Server Level
Another way of optimizing power is by identifying the underutilized servers and scheduling them for virtualization, redeployment or disposal. Eliminating underused servers increases rack space density, reduces stranded power, postpones and even avoids unnecessary infrastructure expansions.
NetZoom Enterprise displays which servers are not used to recommended capacity or are idle, and tells you precisely how much power can be saved by disposing of the underutilized servers. This enables data center operators to decide which servers should be redeployed or virtualized in order to increase overall available power.
Redeploy Underutilized Servers
Estimated Energy Savings from Redeployment
Servers requiring optimization are managed through a structured change management process and are subject to formal authorization.
Servers Targeted for Optimization
Optimize Power at the PDU Level
When planning power optimization, the wisest approach is to start where optimization will have the most impact. NetZoom Enterprise helps customers to reduce the overprovisioning to racks at the smart PDU level by capturing the power readings directly from the PDUs. NetZoom Enterprise leverages the integration with technology partners such as Intel®, Server Technology® and RF Code™ to provide a comprehensive power management and monitoring solution.
In the case of simple PDUs, which are still actively used use in data centers, NetZoom Enterprise captures power by aggregating the power values of each node. Optimizing power at the PDU level is the most cost effective method to improve capacity utilization in the data center.
Power Optimization at the PDU Level
Power Optimization PDU level - Aggregate Consumption
Power Optimization at the level of RFID enabled PDU

Optimize Provisioned Power Based on Real-Time Power Data
Traditionally, data center operators had to rely on nameplate values to estimate the power requirements. The shortcoming of this method, however, is that it nearly always results in underutilization of budgeted power.
NetZoomDC displays Real Time, Provisioned, Nameplate, De-rated and Lab power metrics. Having several KPIs reporting power consumption provides an instant frame of reference that helps data center operators to streamline their power management decisions.
NetZoomDC uses Intel® DCM, Server Technology and RF Code for real-time power, thermal and capacity monitoring.
Real Time Power Consumption Preview
Data Center Cooling
The heat generated by the devices is extracted by Heating, Ventilation & Air Conditioning (HVAC) equipment and cooled down in order to maintain appropriate operating temperature in the data center. In general, HVAC equipment maintains appropriate ambient conditions in the data center by extracting the heat dissipated by the IT equipment. NetZoom Enterprise identifies racks with highest inlet temperature as well as thermal zones within the data center indicating hot spots and anticipating possible issues which can affect the data center performance.
Power Consumption Forecasting
NetZoom Enterprise uses forecasts and What If analysis to determine projected values of future power consumption across the data center; that way users can determine the resources required for future build-outs and unlock the full business value of the NetZoomEnterprise DCIM software.
Power & Space Consumption Forecast
Alerting on Power and Thermal Status in Real-Time
NetZoom Enterprise delivers critical alerts to notify users of changes in power consumption or temperature status in real time. The alerts are based off the threshold limits and power policies set by the user. The alerts are delivered to the web client and mobile application as well as via SMS Messaging and e-mail.
Real-Time Power Alerts
Control Power with Policy-Based Power Capping
Power capping enables NetZoom Enterprise users to limit the power supplied to servers by applying a temporary or recurrent power limit (cap).
Often, servers can use more power than is allocated by the data center operator. This can cause outages and server downtime. When power capping is used, the servers cannot exceed the power capacity limit defined by the operator, thereby preventing potential outages and assuring operational continuity during unplanned downtime. Additional benefits of power capping are: increased rack density, power balancing, power budgeting.
NetZoom Enterprise users can lower the power consumption of a single rack/server or a group of racks/servers, thus applying a power cap policy to multiple instances at once. A group cap policy is convenient when an area suffers a temporary operational impairment and requires management of multiple racks or servers simultaneously.
Power Cap Applied to Group of Servers
NetZoom Enterprise is the most feature rich, fully-scalable, fully integrated enterprise Data Center Infrastructure Management (DCIM) software available. It enables data center professionals to Model, Manage, Monitor and Maximize data center assets, space, power and cooling.
NetZoom Enterprise empowers users with real-time insight into the management of the data center by answering the core questions "What is in your data center?", "How is your data center operating?", "What can be optimized?" and "Where is your data center heading?"
Effective power management and optimization instantly results in savings at all levels of data center operations.
For additional information DOWNLOAD the FREE NetZoom Enterprise DCIM software e-book by clicking on the button below.