Digital Twins for Data Centres
What are Digital Twins?
A digital twin is a virtual model of a process, product, or service. This pairing of the virtual and physical worlds allows analysis of data and monitoring of systems to head off problems before they even occur, prevent downtime, develop new opportunities and even plan by using simulations.
How does a Digital Twin work?
Think of a digital twin as a bridge between the physical and digital world. Smart components use sensors to gather data about real-time operating status, working conditions, environmental conditions, operating capacities, etc. which are captured by the digital twin providing a real time simulation of the operating conditions.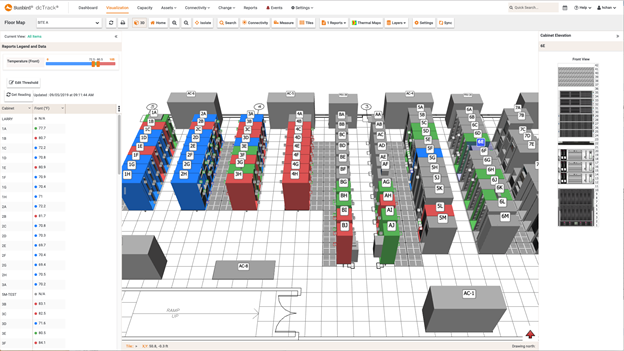 Cabinet Inlet Temperature Report
The Max Temperature per Cabinet Fronts floor map report displays the maximum of all temperature sensors at the front of the cabinet.
Why are Digital Twins useful?
Digital twins are powerful masterminds to drive innovation and performance for effective management and planning purposes. Imagine it as your most talented product technician with the most advanced monitoring, analytical, and predictive capabilities at their fingertips.
Why use a Digital Twin for your Data Centre
Data centres are powerful hubs that are intended to keep the digital world running smoothly. Business enterprises and beyond are becoming more dependent on them. At the same time, data centres are increasingly competing with one another worldwide. The demand for various services continues to rise, which is causing intense pressure when it comes to delivering high efficiency.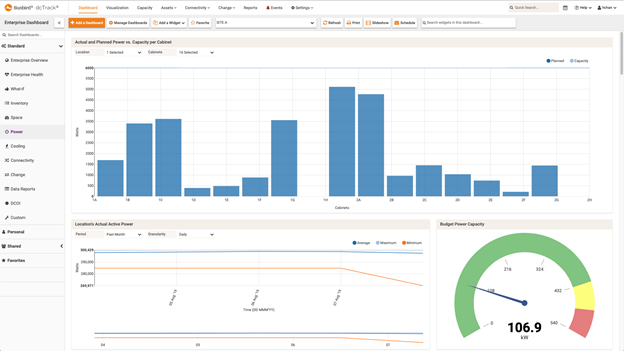 Power Dashboard
This sample shows just a few of the metrics that can be tracked, including Actual and Planned Power vs. Capacity per Cabinet, Location's Actual Active Power, and Budget Power Capacity.
In addition, data centres are constantly becoming more complex. As performance density increases, managing operations poses a major challenge. New approaches to data centre operations are necessary to overcome these hurdles. Enter the Digital Twin for today's data centre.
Simulation Enablement
Digital twins are often created for simulation purposes. For example, when planning manufacturing processes for a specific product. All the process steps are mapped out in the digital twin so they can be tested and optimized virtually. If the digital twin is constantly "fed" real data, it will behave just like its real counterpart does. When this approach is applied to a data center, the digital twin can lead to improvements throughout the entire life cycle.

The future is digital – even for data center operations
The digital twin integrated with artificial intelligence can help IT teams cope with the growing complexity of modern data center environments. Even though data centers are the critical performance hubs behind the digital world, operations still require a lot of manual work and in-depth specialist know-how to keep things up and running.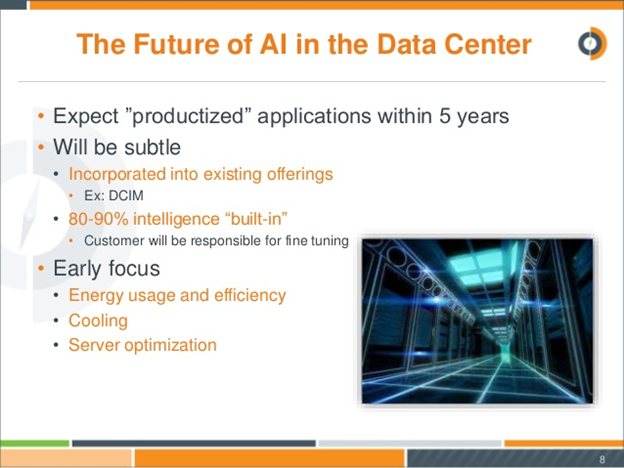 For example, in some cases emergency response plans are only available on paper. In other instances, information can only be provided by a handful of experts who must "use their head" because key knowledge has not been transferred or archived. If standardized interfaces have not been implemented across departments, the smooth flow of information cannot be guaranteed, and classic monitoring tools are often flooded with alarms that make troubleshooting difficult due to a lack of clarity. All of this results in poor efficiency – or worse, especially when decisions need to be made quickly.
Even routine processes can be impacted. Determining whether sufficient resources (servers, energy, cooling, storage, network, space, etc.) can be provided to a platform on short notice often requires too much time. This is where a digital twin can help because it visualizes the current situation in the data center. But that is just one reason showing the necessity of having a digital twin in today's modern data centers.
Risk mitigation and energy management can also be optimized with this approach. Energy accounts for about 50% of the costs stemming from data center operations. And these expenses are rising.
The digital twin makes for better and faster decisions
The digital twin exists and interacts with the real data center in real time. To do this it receives information via sensors as well as standard interfaces and protocols. There is no need to install additional system software; the digital twin functions as the "intelligent buddy" of the real data center.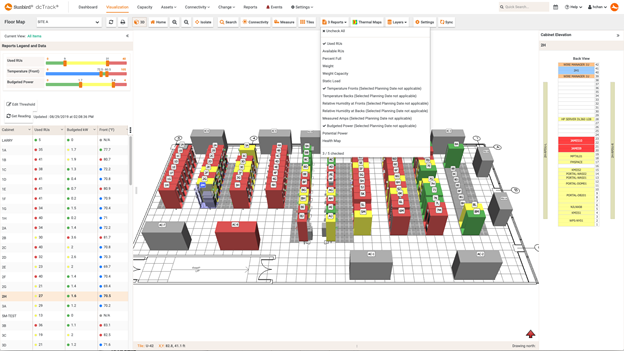 Multiple Floor Map Reports
Sunbird's 3D floor map visualizations enable you to overlay multiple data center capacity, environmental, and power reports to correlate data.
For example, it visualizes the temperature development in various areas of the data center. Hot spots can be identified immediately, thus making it much easier to optimize cooling in the data center and distribute systems effectively to boost energy efficiency.
Process automation also leads to considerable optimization potential when it comes to data center operations. A good example of this is automated emergency management in response to IT system outages or cooling system failures. If these processes are automated, applications can be relocated faster without the risk of any manual errors taking place.
Measures like these reduce staff workloads and considerably reduce operating costs, while ensuring operations are consistent, trouble-free and in compliance with applicable guidelines.
Sourcing a Digital Twin for your Data Centers
Sunbird 2nd Generation DCIM software is architected to provide you with your Data Centre Digital Twin including your remote and branch offices (For Telcos' it includes all equipment at cell tower locations). It also provides a single pane of glass to view and control operations across all your locations.
Sunbird Software, as your data centre digital twin, has many features and functions to run efficient Data Centre operations and facilities to improve Data Centre infrastructure and facilities planning and design. It typically replaces Excel, Visio, and home-grown databases. Sunbird software can bridge information across organizational domains – Data Centre Ops, Facilities, and IT to maximize utilization of the Data Centre.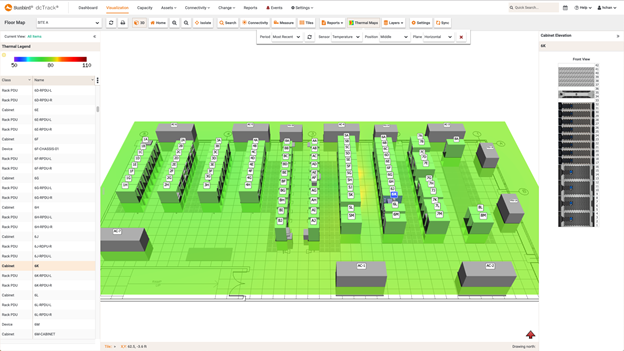 Horizontal Thermal Time-Lapse Video
The horizontal thermal time-lapse video displays cooling data from environmental sensors across your data center floor.
Sunbird DCIM software provides Data Centre operations managers with the ability to identify, locate, visualize, and manage all physical Data Centre assets, quickly provision new equipment, and confidently plan capacity for future growth. Sunbird DCIM software also helps control energy costs, improve Data Centre design, and increase operational efficiency. Implementing a Sunbird Data Centre Infrastructure Management solution provides Data Centre operations managers and their companies with significant operational and cost-saving benefits, today and into the future.
For additional details and to arrange a demo or a FREE trial please contact Tri-Paragon at info@triparagon.com or give us a call at (416) 865-3392.