For IT leaders struggling to achieve the agility and economics of the cloud, with the control and governance of on-premises IT, HPE SimpliVity 380 delivers a powerhouse hyperconverged solution—running some of the world's most efficient and resilient data centers. A market and customer satisfaction leader, the solution dramatically simplifies IT by combining all infrastructure and advanced data services for virtualized workloads onto the bestselling server platform in the market.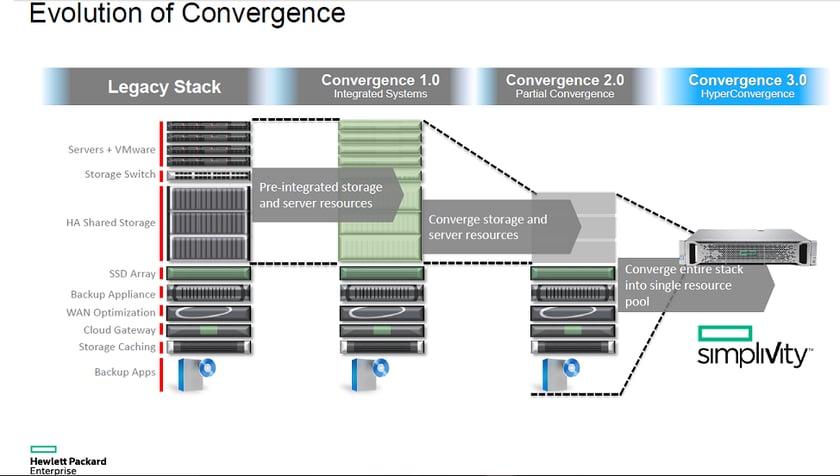 What's new in HPE Hyper Converged systems HPE SimpliVity 380 Cloud agility with enterprise-grade performance—that's what happens when power, simplicity and efficiency converge.
HPE SimpliVity combines all IT infrastructure and advanced data services in a single, integrated hyperconverged solution, backed by the HPE SimpliVity HyperGuarantee.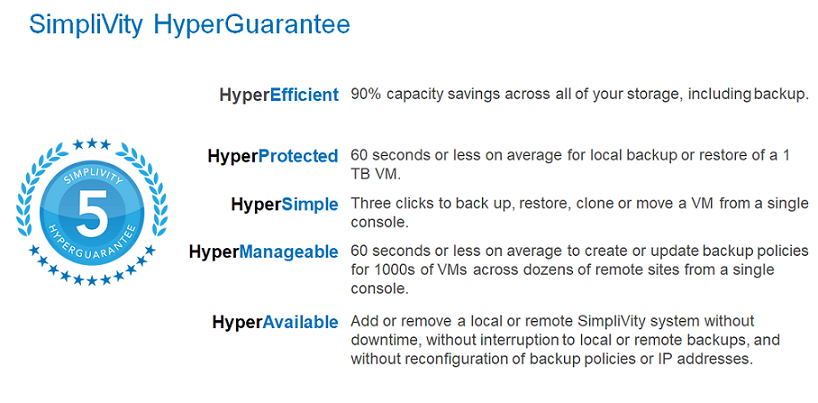 Gain up to 80% more time to spend on innovation, and remove IT service delivery roadblocks with an offering that is priced at a fraction of the cost of traditional and public cloud solutions.
Achieve 90% guaranteed capacity savings. Always-on compression and deduplication enables powerful application performance and capacity cost savings across storage and backup.
Restore 1TB VM in under 60 Seconds. Simple, centralized global management of all operations through the hypervisor management console and rapidly updates policies across the entire environment.
Reduce costs by 73% Dramatically improve overall efficiency with significant cost savings compared to traditional infrastructure.
Solve Key Business Challenges with HPE SimpliVity. Data Center Consolidation. Minimize data center footprint. Placing all IT infrastructure below the hypervisor on a scalable x86 platform reduces data center devices by 10:1, resulting in lower upfront costs, greater operational efficiency and improved performance.
Data Protection and Disaster Recovery Protect data in a fraction of the time required by legacy solutions. With built-in, end-to-end data protection and automated disaster recovery, HPE SimpliVity reduces storage and bandwidth requirements, resulting in more recovery points and enhanced VM protection.
VDI Drive down costs without sacrificing performance or resiliency. Get more virtual desktops on less hardware; easily add nodes when deploying new desktops; and globally backup, restore or clone a VM in three clicks or less.

Key benefits of a hyperconverged platform:
· Ease of deployment and management—Using interchangeable x86-based servers simplifies the software design process.
· Much lower cost—Given that hyperconverged solutions primarily run on commodity x86-based hardware platforms, initial acquisition costs can easily be 50% lower than the cost of purchasing a scale-up, shared storage array sized to meet similar storage requirements.
· Flexibility that is more in tune with virtual environments—Often built around scale-out architectures, hyperconverged systems offer a "pay as you grow" capability that can be easily and granularly scaled and reconfigured without impacting application services.
· Storage resources can be quickly and easily provisioned or de-provisioned, and returned to a global pool, providing better resource utilization. Scale-out architectures support a much more balanced approach to scaling performance and capacity, and they eliminate the need for disruptive forklift upgrades.
· HPE SimpliVity software available and orderable on the best-selling compute platform - HPE ProLiant DL380
· Data efficiency – always on, global inline dedup and compression 90% capacity savings guaranteed
· Application performance – unique data architecture delivers both peak and predictable performance
· Resiliency with built in data protection – improves backup and disaster recovery by 70% ("57% of HPE SimpliVity customers reduced recovery times from days to hours to minutes." (TechValidate)

As an HPE authorised reseller Tri-Paragon Inc. can provide you with the right solution to reduce costs and streamline operations. Installation, training and optimization of your Data Centre together with the requisite network and power cabling, the de-installation of retired equipment and its destruction in accordance with your destruction policies are an integral part of our service.
View the case study of a market leading Canadian manufacturer that needed to consolidate IT, and also add remote office management and data protection functionality.