This BLOG addresses the following topics:
What makes disaster recovery so challenging?

How can we accelerate recovery through automation?

How can we solve disaster recovery with HPE SimpliVity architecture built-in data protection?

What's new in HPE SimpliVity RapidDR?

Customer Case Study.
1. What makes disaster recovery so challenging?
"Post-mortem analysis of the failure of Delta's computer systems pointed to a power surge in a transformer and a failure to switch over to backup infrastructure. This was a 20th-century equipment glitch that brought the biggest and best U.S. airline to its knees." Nearly700 flights cancelled. Forbes - August 11, 2016.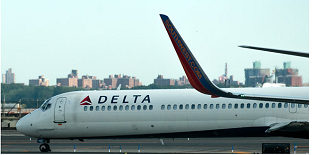 Top 5 Data Protection Challenges

Top 5 Overall Pain Points: Disaster Recovery and Data Growth:

1. Sub-par disaster recovery strategy

2. Too few points-in-time to prevent data loss

3. Inadequate strategy/process for backing up remote sites

4. Inability to backup within the allocated window of time

5. inability to backup/recover a single virtual machine

1. Dealing with data/capacity growth

2. Capacity planning/forecasting

3. High cost of storage (Capex)

4. Delivering adequate storage performance

5. Meeting disaster recovery requirements
The Data Problem:
Data capacity requirements are increasing at an exponential rate
More and more data resulting in reduced disk performance
Backup windows are shrinking
Recovery point objectives more stringent
Recovery time objectives are continuously being reduced
The majority of enterprises are unable to meet their RTO's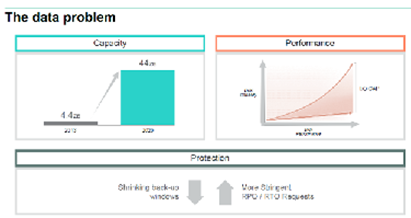 The main challenges of Disaster Recovery
The stakes are high – nearly $9,000 per minute (Pokemon Institute)
Relentless data growth makes it challenging to meet recovery time objectives
Expectations for recovery time objectives are unrealistic
Complexity of IT infrastructure makes it difficult to duplicate at a reasonable cost
Complexity of protection solutions makes it difficult to achieve timely responses
2. How can we accelerate recovery through automation?
By implementing an HPE SimpliVity Highly resilient architecture Data Virtualization Platform with:
| | | |
| --- | --- | --- |
| 1. Guaranteed data efficiency | 2. Built-in resiliency, backup, and disaster recovery | 3. Global VM-centric management and mobility |
| Always-on compression and deduplication | Full logical backups with near zero overhead | Policy-based, VM-centric management |
| All data at inception, globally | Guaranteed 60-second restore of 1TB VM | No LUNS, shares, or volumes |
| Offloaded to OmniStack Accelerator | Granular RTOs and RPOs from hours to seconds | Right-click operations |
| Guaranteed 90% capacity savings across primary storage and backup | Simple, affordable offsite DR | Native tool integration |
| | RAIN + RAID protection of data | Single view of all data centers and Remote and Branch Offices (ROBO's) |
3. How can we solve disaster recovery with HPE SimpliVity architecture built-in data protection?
HPE SimpliVity systems built-in data protection provides…
1. Global VM-Centric Policies and Management

2. Instant Backup and Recovery of Data

3. Simple and Highly Efficient Offsite Disaster Recovery

a) Backup policies aligned to VMs

b) Simple, click-driven interface to:

o Provision a VM

o Clone a VM

o Move a VM

o Backup/restore

c) No LUNs, shares or volumes

d) Policies follow VMs wherever they go

a) Powered by HPE SimpliVity system unmatched data efficiency

b) Full logical backups in seconds

c) Hyper Protected 60 seconds or less on average for local backup or restore of a 1TB VM

d) App-aware backups

e) File-level restore

f) RPOs in minutes, RTOs in seconds

a) WAN-efficient remote backups

b) Global VM-centric management

c) Rapid recovery at DR site

d) Choice of HPE SimpliVity cloud service providers for DRaaS
Highly Resilient Architecture to Maximize Uptime and Prevent Data Loss:
Object

VM

Node

Data Centre

Federation

File and object-level restore

New or replacement VM

Hardware RAID

Per VM RAIN

Site-to-site DR

App-aware backups

Multiple points in time

Component-level

redundancy &

protection

High availability

Remote backup & recovery

Multiple points in time

Fully independent

Integrity checks &

bit rot detection

Unique block replication

Restore to any VM
4. What's new in RapidDR?
Rapid recovery. Push-button simplicity.
Power VMs at recovery site
Run pre and post scripts
One-click activation
Automated recovery workflow
Single vendor solution
One support call
5/10 customer satisfaction
Speed up and simplify disaster recovery with RapidDR
Lowers RTOs through automation

Dramatically simplifies disaster recovery

Improves readiness and compliance

§ Site-level recovery in minutes

§ One-click activation of pre-configured recovery workflows

§ Automation achieves 70% better RTO compared to manual procedures

§ Reliable disaster recovery in a single, integrated solution with one support number

§ Automation replaces error-prone manual recovery processes

§ Simple, VM-centric backup and recovery policies

§ Self-documenting recovery plans replace manually developed runbooks

§ Documented, actionable recovery plan created in minutes

§ Easy disaster recovery testing to verify readiness and compliance
The only hyperconverged solution with built-in data protection now includes automated disaster recovery.
New RapidDR Features Speed Up Recovery and Simplify DR Testing.
Even faster recovery:

Reduces downtime by optimizing the execution of recovery workflows
Delivers up to 2x improvement compared to previous versions of RapidDR

Automated compliance documentation:

Simplifies audit and compliance by translating recovery plans into fully documented runbooks
Includes manual recovery steps required if RapidDRis not available

Easy verification of recovery plans:

Ability to test existing recovery plans without impacting running workloads
Confirms readiness for a disaster by allowing users to test recovery plans in advance
SimpliVity RapidDR Automated Recovery Demo
SimpliVity RapidDR enables one-click recovery of all VMs in your recovery workflow. Watch Adam Sekora, Director in the Office of the CTO, demonstrate the recovery execution process based on a predefined recovery plan by clicking on the following URL: https://www.youtube.com/watch?v=B5AXJuSEkuQ
5. Customer Case Study
A Belgian healthcare provider enhances disaster recovery with HPE SimpliVity Ensuring business continuity for critical healthcare applications. Click the button below to download your free copy of the costomer's case study.
As an HPE authorised reseller Tri-Paragon Inc. provides you with the right solution to reduce costs and streamline operations. Installation, training and optimization of your Data Centre together with the requisite network and power cabling, the de-installation of retired equipment and its destruction in accordance with your destruction policies are an integral part of our service.
Please call 416.865.3392 or email us at info@triparagon.com for more information on the HPE SimpliVity solution and to learn how it can benefit your organization putting you on the road to Digital Transformation.