Tri-Paragon Inc. 130 King Street West, Suite 1800, P.O. Box 427, Toronto, ON Canada M5X 1E3
Phone: 416.865.3392 Email: info@triparagon.com
A DATA CENTER DCIM VALUE PROPOSITION
"NetZoom Enterprise"
The cost of data center downtime has increased significantly for companies in the last three years, according to results of a recent study by Ponemon Institute, sponsored by Emerson Network Power. The average total cost per minute of an unplanned outage increased from $5,617 in 2010 to $7,908 in 2013 to $8,851. The average cost of a data center outage rose from $505,502 in 2010 to $690,204 in 2013 to $740,357 in the latest study.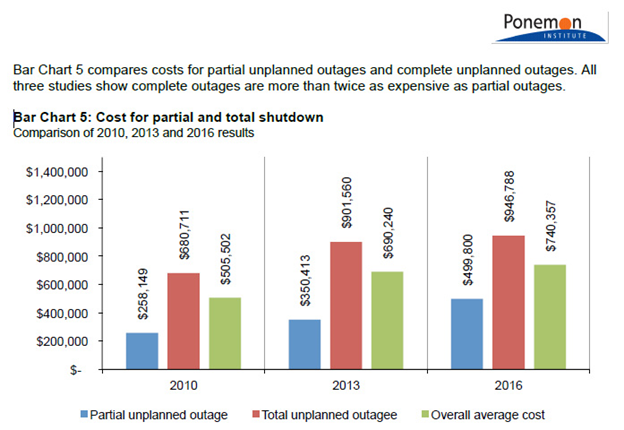 Average Costs for Partial and Total Data Center Shutdown
The study of US data centers quantifies the average cost of an unplanned data center outage at slightly more than US$7,900 per minute. This is a 41% increase from the $5,600 it was in 2010, when Emerson and Ponemon first started downtime cost assessment studies. This year's report analyzes costs at 67 data centers over last year across varying industry segments with a minimum size of 2,500 sq ft. It is an analysis of direct, indirect and opportunity costs from data center outages, including damage to mission-critical data, impact of downtime on organizational productivity, damage to equipment, legal and regulatory repercussions and lost confidence and trust among key stakeholders.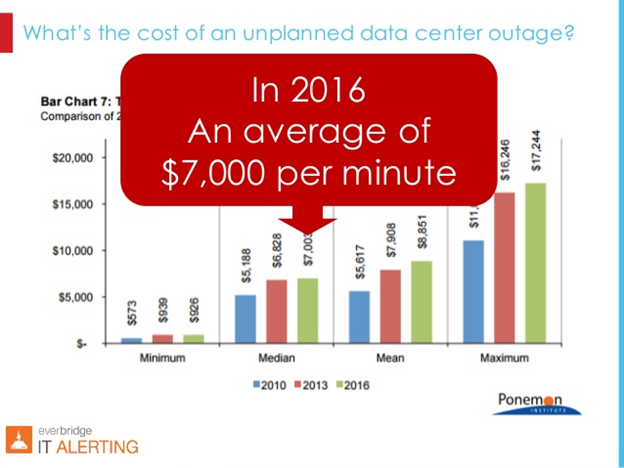 Average Cost of an Unplanned Data Center Outage
Other highlights from the report:
- The average reported incident length was 86 minutes, resulting in average cost per incident of about $690,200. In 2010 it was 97 minutes at about $505,500.
- For a total data center outage, which had an average recovery time of 119 minutes, average costs were about $901,500. In 2010, it was 134 minutes at about $680,700.
- For a partial data center outage, which averaged 56 minutes in length, average costs were about $350,400. In 2010, it was 59 minutes at about $258,000.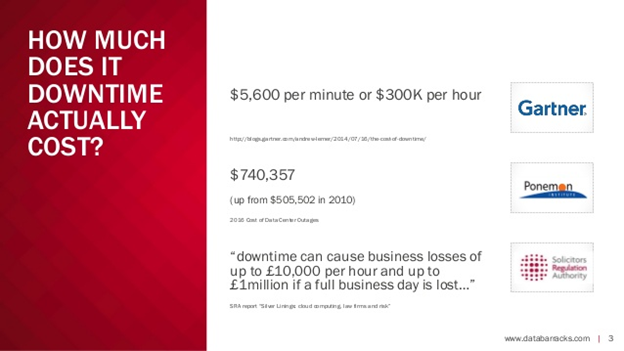 Cost of IT Downtime
How much did your last outage cost your Organization?
Those organizations with revenue models that depend on the data center's ability to deliver IT and networking services to customers – such as telecommunications service providers and e-commerce companies – and those that deal with a large amount of secure data – such as defense contractors and financial institutions – continue to incur the most significant costs associated with downtime, with the highest cost of a single event more than $1.7m.
How "NetZoom Enterprise" DCIM reduces the risk of unplanned application and data center outages

"NetZoom Enterprise" helps to enforce standard processes for operating the data center. These consistent, repeatable processes reduce operator errors which can account for as much as 80% of system outages.
"NetZoom Enterprise" provides operational data, including environmental data (temperature, humidity, air flow), power data (at the device, rack, zone and data center level), and cooling data. In addition, "NetZoom Enterprise" also provides IT data such as server resources (CPU, memory, disk, network). This data can be used to alert management when thresholds are exceeded, reducing the mean time to repair and increasing availability.
"NetZoom Enterprise" analyzes the key performance indicators from the monitoring phase as key input into the planning phase. Capacity planning decisions are made based during this phase. Tracking the usage of key resources over time, for example, can provide valuable input to the decision on when to purchase new power or cooling equipment.
"NetZoom Enterprise" can be used to analyze "what if" scenarios such as server refreshes, impact of virtualization, and equipment moves, adds and changes. If you could summarize DCIM in one word, it would be information. Every facet of data center management revolves around having complete and accurate information.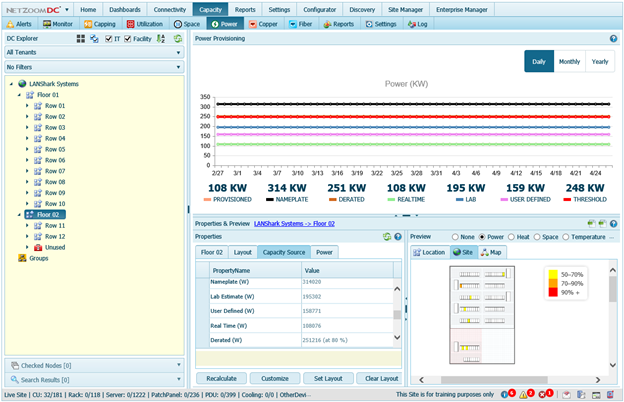 The Importance of Complete and Accurate Data Center Information
"NetZoom Enterprise" provides the following benefits:
Access to accurate, actionable data about the current state and future needs of the data center

Standard procedures for equipment changes

Single source of truth for asset management

Better predictability for space, power and cooling capacity means increased time to plan

Enhanced understanding of the present state of the power and cooling infrastructure and environment increases the overall availability of the applications and the data center

Reduces operating cost from energy usage effectiveness and efficiency
It is difficult to achieve the more advanced levels of datacenter maturity or of datacenter effectiveness generally, without extensive use of DCIM software. The three main drivers of investment in DCIM software are economics (mainly through energy-related savings, improved availability, and improved manageability and flexibility).
One of the primary benefits of "NetZoom Enterprise" is the ability to answer questions such as the following:
Where is my data center asset located?

Where is the best place to place a new server?

Do I have sufficient space, power, cooling and network connectivity to provide my needs for the next months? Next year? Next five years?

An event occurred in the data center — what happened, what services are impacted, where should the technicians go to resolve the issue?

Do I have under-utilized resources in my data center?

Will I have enough power or cooling under fault or maintenance conditions?
Without the information provided by "NetZoom Enterprise", the questions become much more difficult to answer. The benefits of a "NetZoom Enterprise" solution can be found in time savings, people productivity, and cost savings, and most importantly unplanned outage savings. ... Employee productivity and morale also dramatically increases as processes and workflows are implemented to ensure high quality changes in the data center (i.e. changes that do NOT cause an unplanned outage).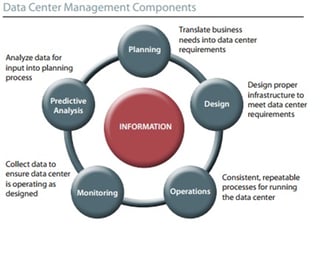 Process Consistency, Accuracy & Control
Coupled with the added information, process consistency and control that "NetZoom Enterprise" brings to the reliability of the data center, it is also recommended that the Change Management process be reviewed to assess its effectiveness in determining and mitigating risks of outages caused by changes to the environment. A strong and effective risk and mitigation management process must be in place protecting the integrity of the data center and its services to the business and its customers.
To arrange a demo of "NetZoom Enterprise", the most integrated and comprehensive Data Center Infrastructure Management Software Solution available today, Press the button below to register. We will call you within 2 business days to coordinate your personal "NetZoom Enterprise" demonstration.
For further information about our Data Center Improvement Products and Services, send us an email at info.triparagon.com or call us in Toronto at 416.865.3392.