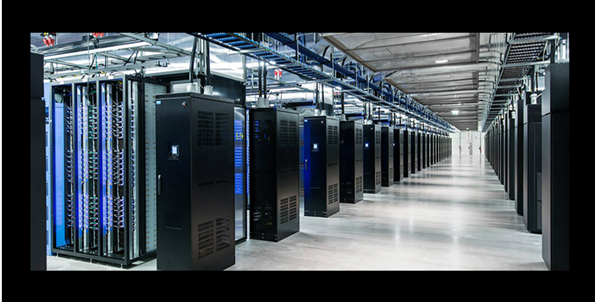 Track and manage port capacity
As colocation environments grow increasingly dense and complex, you need to accurately inventory and track individual physical port types residing on every device to make the most informed decisions to improve planning for new equipment and services and aid in maintaining and troubleshooting colocation infrastructure.
"A lot of times I'm in a meeting and there's a project coming up and we're going to deploy some new equipment and we want to know what we have for connectivity," said Tom Wysocki, Data Center Manager, KPMG. "What I'm able to do is bring up a visual of that switch and very quickly I can highlight what's connected and what's not connected. So if we're in a project and I know there's going to be ten servers and I'm going to need two connections per server, I can see I've got plenty of ports available and even assign those out now to the network team or the project leader and say, 'These are the ports we'll be utilizing,' so they can go ahead and start getting them configured. We can start pre-cabling ahead of time and labeling and really move ahead on that project.
Visually document power and data connectivity
Good network documentation practices improve uptime and increase the speed at which you can deploy equipment. Plus, if there is an issue, you can quickly trace cables via your documentation to determine the root cause rather than having to manually trace cables. Without proper documentation, you risk mismanagement of resources, ineffective use of capacity, inability to move or install equipment, unsafe operating environments, and increased capital expenditures for new cabling and hardware.
"If people are concerned with how things are connecting throughout the data center, I can show the connectivity of the paths for these devices," said Wysocki. "If somebody is in the facility or someone is visiting from one of our other sites assisting us, this gives them a better visual of the connectivity they might need to troubleshoot instead of looking at just a cabinet with a bunch of cables going through it. This gives a much better visual of understanding the path they're going to be looking for to troubleshoot."
"I can make sure I have redundant power," continued Wysocki. "[DCIM software] shows me I have connectivity to each rack PDU and the rack PDUs are going to an A and a B on the floor PDUs, so I know I have that full layer of power redundancy. Visualization is a great tool if you are in a meeting and you want to outlay how things are going to connect so everyone understands where they are going within the data center. That's been another huge help for us going forward."
In another example, Wysocki detailed, "I have modeled out all the infrastructure for our colo provider, but I don't have insight to what their equipment is reading as far as the floor PDUs all the way back to the UPS. I did model out their infrastructure so if I bring up a power supply from a server, this will actually show me the full connectivity path. Power supply 1 on this server is going to outlet 17 on this rack PDU and the PDU inlet is going to this whip under the floor and then just following that path to these breakers on panel cord B and then once I'm in that panel breaker back to this floor PDU back to the UPS. If I do have an issue I'm concerned with, I can go back to our colo provider and give them a little bit more detail to assist them troubleshooting any issues we've had. These are all tools that—having to treat this site more lights out right now—has really benefited us a lot of time."
Measure the length of cable you need before installation
Accurately measuring cable lengths keeps your data center free of loose cables and reduces the cost of wasted cable, but typically involves someone taking a tape measure to the data center floor. DCIM software makes it easy to know exactly how much cable you need without anyone needing to step into the facility.
"If I'm working on a project and I know I'm going to need to order some cabling, what I can do now is easily measure this out," said Wysocki. "I can click [my starting cabinet] and follow my cable tray knowing what my next cabinet would be and have my ending point. Then, I just need to put in my vertical ends, compensating for difference in height from the cabinet up to what the cable tray is. And without my having to be in the facility, I'll know exactly what kind of cable length I'll need to get from Point A to Point B. That's been a very beneficial tool for us."
Accurately manage all assets, including spare parts
Eliminate the pain of managing multiple Excel spreadsheets and Visio diagrams and enable a single source of truth with an accurate inventory of data center assets and real-time views across your entire colocation deployment, including equipment in racks like servers, storage, networking equipment, rack PDUs, patch panels, and even applications.
"When somebody is looking at this tool, I want them to be able to easily understand what they're going to see in the cabinet if they have to do any troubleshooting," said Wysocki. "Once they go in, they look at the tool and what they see now, they'll see exactly in the cabinet. It just makes it much easier troubleshooting going forward. That's another benefit to using a DCIM."
For more granular asset management, leverage a second-generation DCIM solution with Parts Management to track all hard drives, cards, memory modules, power supplies, patch cables, and any other subcomponent, even boxes of screws.
"If I need a specific RAM chip for a server somebody needs to upgrade," said Wysocki, "I can go right into this tool and find the model I want and say, 'Here's how many we have on hand for each site.' Our east coast data center has 54 of these and I need 20. I can move that inventory over to my site and tell them, 'Please send that overnight so I can have that for an upgrade.' That has been a great tool to have and going forward the expandability is great."
Monitor and report on power loads
Deploying new equipment is expensive, and you want to put as much equipment as you can in the space you lease from a colocation provider. Monitoring power loads is critical to know the exact load for each device you deploy and maintain uptime.
"Since we're monitoring down to the outlet level, I can go right in and see what the power consumption is for every device in the data center," said Wysocki.
"I do have SNMP enabled on all my rack PDUs so if a power supply should go out on a switch, server, or appliance, I will get an immediate email from that PDU that it's lost power," continued Wysocki. "I will know that device has lost power probably before the application team that owns that device. My team can go down and verify it and hopefully reset the power supply or report back that the power supply is dead."
"We've been tasked for calculating how much we're using for devices using computing power, networking, and storage," said Wysocki. "Since I can monitor down to the outlet, under each asset in the DCIM tool I have earmarked every device whether it is a storage, compute, or network device. This widget will be able to make those calculations for me automatically without me having to go rough guessing throughout the data center. I can have that send a weekly report to my management if they want to start charging back those groups for the power their consuming."
Monitor power trends
You should leverage an enterprise polling engine that collects all the power data from your colocation data center, retains that data for longs periods of time, and transforms it into actionable information.
"I can move along different dates and times to see what kind of consumption we're using," said Wysocki. "For the devices in the cabinets, you have different options for how you want to trend it if you want current or want to view it in wattage, and then also if you want to have past month, past week, past day just to see what your trends are doing is beneficial. I can monitor what is going on within the breakers and on my inlets as well and any previous alarms they have had like one phase is a little higher than normal. That's another tool on the power side that's been working great for us."
Monitor environmental sensor data in real-time
Monitoring the environmental health of your colocation data center helps identify hot spots and overcooling, ensures a safe operating environment for IT equipment, reduces energy costs, and improves uptime.
"We have temperature sensors on the front of each cabinet," said Wysocki. "If I just want an overview, I can bring [view] a thermal map that's going to give me an infrared view overhead of the data center so I can look for any hot or cold spots."
"I can run a quick report on the temperature on the front of each cabinet," continued Wysocki. "We have [a sensor] on the bottom, one in the middle, one on the top, and humidity also in the middle as well. I can go in and look through a row and see what all the average temperatures are. I can see what my actual usage is of this entire cabinet versus what its capacity is. If I'm running a little hot, I can see what's going on there. The other benefit is I can change over to a vertical plane, and just as if I was standing right in that row looking at, I'll get a thermal image of what's going on with those sensors. If things are very warm, I can go here and read this. I do have instances where a particular device may be reading warmer than normal or have an alarm and an admin might come and say, 'This device is reading a high temperature. Can you please check for me?' and without even being in the data center I can bring this up right away, look at the temperatures on the cabinet, and bring up this thermal map and say, 'Here's our average temperature.' I can send him a screenshot of this and say, 'We don't have any cooling concerns, so you may have to open a case with that hardware vendor to troubleshoot or replace something that's getting hot within that device.' That's a big benefit right there."
Enhance data center security
Today's data center professionals face a wide range of security management issues. Their data centers are continuously exposed to physical security threats from both external and internal sources. Using electronic door locks with DCIM software improves data center security and makes it easy to know when there is a potential security breach of an open cabinet.
"Once they open that door," said Wysocki, "This is going to alarm within the system and show red that there is an active event. I'll actually get an immediate email telling me someone opened that door. I can go over to the camera system and say, 'I know I have nobody working on site today. Who's in that row from the colo provider?' and question them, 'Why is somebody working in there?'"
Simplify space and power capacity planning with business intelligence dashboards
Increasing capacity often has a lead time, so it is important to know exactly what your current capacity is and when you can expect to run out. Leverage a DCIM solution with zero-configuration dashboard widgets that provide an accurate view of your capacity. Configure your gauges with your own red/yellow/green thresholds to easily understand your capacity at each site, if you need additional capacity, or if you have run out anywhere.
Kyle Kohne at Emerson utilizes business intelligence dashboard widgets to make more informed colocation infrastructure management decisions. One of his favorite widgets is the Cabinet Space Capacity chart.
"This chart is really fantastic because it has all your sites in one place," said Kohne. "You don't have to go to many different windows to try to find any type of space capacity. For myself, going through a data center optimization project, I can see how much space I have in my site right away and how much space capacity I'm going to gain in another data center if I migrate some systems over. All these [charts] have a drilldown effect to where you can still see the main chart, but it also gives you an average on your space capacity, maximum and minimum, and a details grid where you can search and find any type of information that you're looking for by location or a specific cabinet or RU."
Another favorite of Kohne's is the Cabinet Space Remaining and Floor Space Remaining gauges.
"My management really enjoys seeing the radial gauges simply because it's a real quick visual on what's my space, what's my capacity, and where are we at," said Kohne. "As the space remaining dial starts to move to the left, you can see where you're getting close to the yellow or red range. That really is a quick visual of, 'We are really down to limited space. We need to go ahead and add maybe some cabinets or some rows so that way we can manage for the future growth.'"
Finally, Kohne uses the Rack Capacity Trend chart to see the impact of projects on space capacity.
"I really like this because it very quickly shows you a quick jump or quick drop in your rack units that you've used or that you've freed up," said Kohne. "With this, we can see where large projects can really take an effect on what the capacity is for your rack units. We just got finished installing a 164 server node cluster and real quickly we just saw a huge drop in the number of rack units we had available. You can pinpoint how these large projects are then effecting your trending over a whole year or month or week depending on how far out you want to go."
In Summary
Remotely managing colocation infrastructure can be a challenge due to a lack of on-site personnel and no visibility into what is happening, but by following best practices and leveraging Sunbird's DCIM software solution, you can simplify colocation infrastructure management and improve efficiency, productivity, and uptime.
Regardless of whether you are an experienced DCIM user or this is your first time learning about it, these best practices from the best data center professionals in the industry will help you overcome the most common challenges of managing your colocation.
To learn more about how Sunbird DCIM software solution can help you remotely manage your colocation infrastructure, contact Tri-Paragon at info@triparagon.com or call (416) 865-3392.