December 10, 2020
In 2020, data center professionals saw significant industry shifts and advancements in data center management tools that reshaped how modern data centers are managed. The COVID-19 pandemic ushered in a new normal requiring remote data center monitoring and management, which was already becoming a priority due to increases in edge, retail, colocation, and remote deployments.
With 2021 just around the corner, let us look at 2020's top trends in data center management and how data center professionals are tackling the latest challenges and opportunities.

Remote data center management tools are no longer optional. 40% of organizations reported that COVID-19 limited their ability to manage their infrastructure. The pandemic, in conjunction with increases in remote deployments such as edge and retail, have made it critical for organizations to develop a comprehensive remote data center management strategy to succeed going forward. Uptime Institute found that 90% of data center operators plan to increase their use of remote monitoring and management tools. With minimum staff onsite, no visibility into what is happening, and an increased need for clear instructions for smart hands, organizations are reallocating budgets and finding funds to deploy DCIM software to enable remote data center management.




Smarter, data-driven collaboration. The pandemic quickened the pace of existing trends that are driving the need to manage data centers remotely, but remote teams need to leverage business intelligence and analytics to provide the information they need to manage and optimize their environments from anywhere. Organizations are increasingly leveraging focused remote data center management dashboards to accelerate data analysis, improve collaboration and productivity around data center KPIs, and increase transparency and accountability.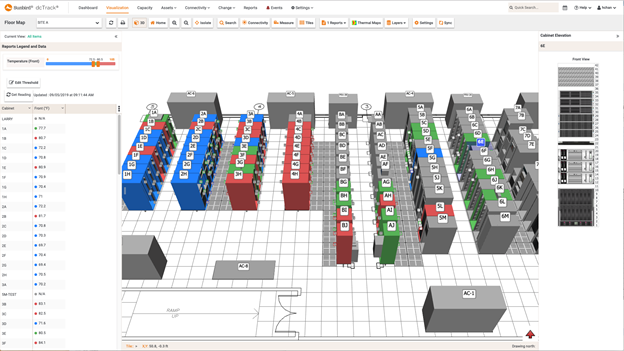 Cabinet Inlet Temperature Report - The Max Temperature per Cabinet Fronts floor map report displays the maximum of all temperature sensors at the front of the cabinet.
Edge deployments become more common. Technology trends such as the Internet of Things (IoT), big data analytics, artificial intelligence, virtual reality (VR) and augmented reality (AR), smart cities, and autonomous vehicles are driving deployments of edge data centers. By processing data closer to the end user, organizations are reducing latency and data transmission costs. However, edge infrastructure management can be a challenge due to the complexity of managing many remote sites and a lack of onsite personnel. Operators must follow best practices for remote edge infrastructure management to maintain availability and uptime and achieve optimal performance while decreasing costs.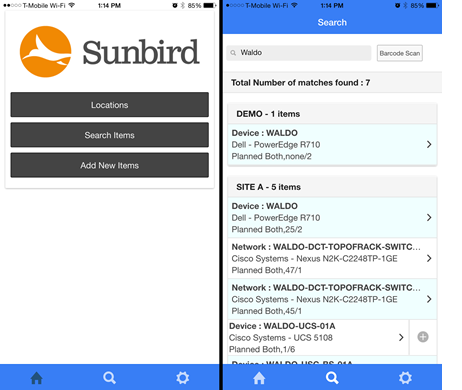 Paperless Audit Mobile App
Access information from anywhere with your choice of smart phone or tablet with our mobile app. Create, read, update and delete items via your mobile device, and scan a cabinet bar code and view its full configuration. The app improves inventory management by enabling paperless audits and updates on the fly.
Expanding colocation footprints. According to an IDC survey, 72% of organizations plan to increase their use of colocation providers. Customers report that the primary reasons are for improved business continuity and disaster recovery, to get content closer to end users, to increase floor space with lower upfront costs, to provide greater scalability of power, and to eliminate the time and effort necessary to maintain mechanical equipment. Operators must adhere to remote colocation infrastructure management best practices to improve efficiency, productivity, and uptime.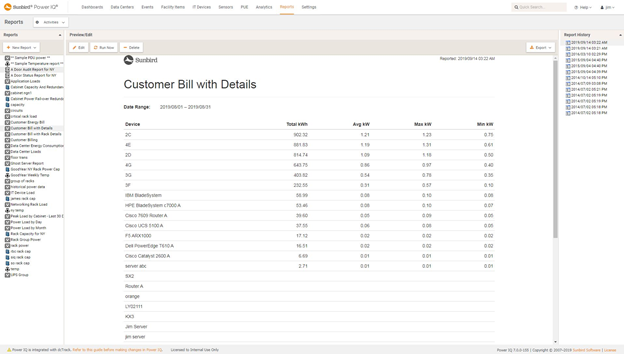 Customer Billing Report - Drive energy efficient behavior by reporting energy consumption reports with full details to all customers.
Integration of IT and Data Center CMDBs. While traditional IT CMDBs track corporate IT assets and their configurations as logical objects, many data center managers are leveraging Data Center CMDBs to provide a holistic view of all data center resources and capacity. Data Center CMDBs provide detailed asset information and visuals such as exact site and rack location with U position, dimensions, weight, power and network port connections, and rack elevation visualizations to provide a 3D experience. Integrating CMDBs is becoming a must for operators to enable a single source of truth, improve workflow and productivity, improve collaboration across functional teams, and simplify data center security management.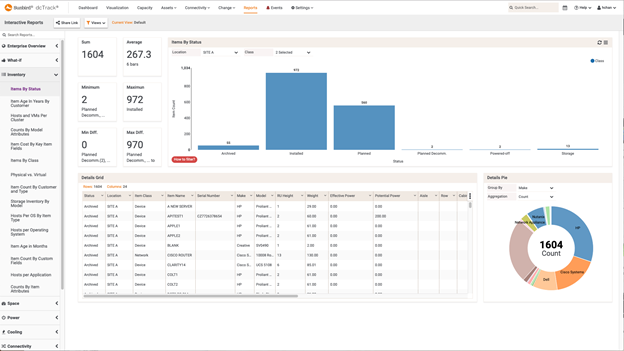 Zero-Configuration Interactive Reports and Visual Analytics
dcTrack provides zero-configuration analytics that work out-of-the-box.
Rack densities are increasing. According to 451 Research, 45% of companies expect to have an average density of 11 kW per rack or higher within a year. For comparison, in 2014, only 18% of organizations reported rack densities above 10 kW. High-density deployments can be cost-effective as more IT resources can be fit in less space, but they can cause hot spots, tripped circuit breakers, and other potential incidents that can cause downtime. Data center managers need to be aware of the challenges of solutions of managing high-density data centers.




Managing port capacity and cabling becomes a priority. As modern data center environments grow increasingly complex and higher in density, the need to track and manage port capacity and cabling rises. When you consider that managing 100 racks involves managing over 70,000 cabling and port components, it becomes clear that data center professionals need data center management software to look beyond just the servers in the cabinet and track detailed information on ports, cables, connectivity, and relationship mapping to support agile remote management of everything in the white space.





Data Ports Displayed in Asset Details - Asset detail pages provide information on data ports, including connected items, circuit statuses, and IP addresses.




Power capacity planning gets easier and more accurate with less risk. Capacity planning continues to be one of the largest concerns for data center managers. Recent advances in AI and machine learning technologies now available in DCIM software automatically calculate a power budget value for each individual server make/model instance based upon outlet-measured readings from intelligent rack PDUs. The software assigns a budget derived from your devices' exact loads running your applications in your environment and updates each week. Data center managers report improvements in rack power utilization by as high as 40% with this automatic, highly accurate, and low-risk approach.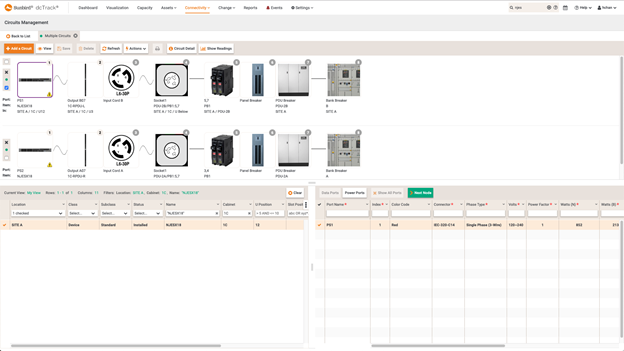 Multiple Power Circuit Trace from Redundant Power Supplies
Each node and connection in a power circuit is displayed using a graphical representation of the circuit. You can view the complete circuit from the starting item to the ending item, including each item in between
More granular asset management. Modern data center managers have an overwhelming number of IT assets to keep track of each with numerous subcomponents such as hard drives, cards, memory modules, power supplies, and patch cables. Accurately managing inventory and assignment of these parts is virtually impossible with spreadsheets or other legacy tools. Data center professionals can now leverage DCIM software to manage high-value inventory items, monitor the supply of spare parts, and be alerted when they are running low easily and accurately.

Energy efficiency and sustainability. A survey conducted by Equinix found that 45% of data center customers expect their providers to demonstrate the sustainability of their IT infrastructure and 42% say the sustainability of their provider has a direct impact on their purchasing decisions. Data centers are going green to improve sustainability and reduce energy costs which can be as high as almost $30,000 to power a single rack.
How to Adapt to These Data Center Trends in 2021
The key to staying on top of data center management trends and finding success going forward lies in having a comprehensive remote data center management strategy and a complete remote data center management DCIM software toolkit from Sunbird software. (https://www.sunbirddcim.com/what-dcim)
For more information on the functionality and benefits of the Sunbird DCIM remote software toolkit and to arrange a demo contact:
Tri-Paragon Inc.
at 416 865-3392 or email us at info@triparagon.com.
Many of these trends are here to stay, and data center managers need to be ready. Now is the perfect time to explore how Sunbird DCIM software can help you turn the challenges of modern data center management into opportunities to grow.