IT Disaster Recovery Services for Your Business
Backup and recovery is the process of duplicating data and storing it in a secure place in case of loss or damage, and then restoring that data to a location — the original one or a safe alternative — so it can be again used in operations. Ideally, this backup copy (often called a snapshot) is immutable meaning it cannot be altered after it is created to protect against mutations such as ransomware.
Backup and recovery is also a category of onsite and cloud-based technology solutions that automate and support this process, enabling organizations to protect and retain their data for business and compliance reasons.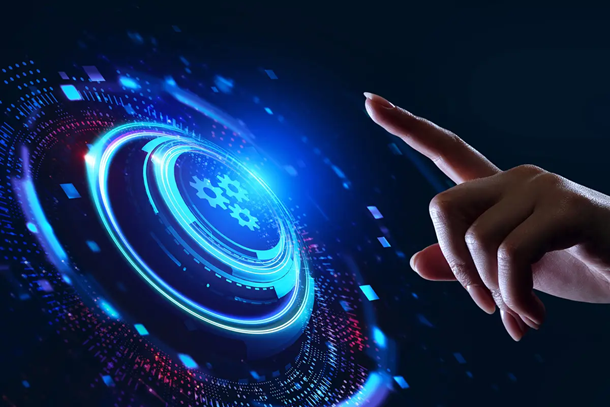 The key difference between backup and recovery is that the backup process is how you save and protect your data and safely store it away so you have it for a later time, when you might need to use it. Recovery is the process whereby you retrieve and restore that data to your systems to avoid downtime.
Reliable backups and fast recovery together contribute to business continuity and business resilience. Following are different types of recovery:
Granular recovery of files, folders, and objects – also known as file-level or object-level recovery, is the process of quickly getting back one or just a few specific sets of data from among many volumes.
Instant mass restores – This process allows the recovery of not just files but hundreds of virtual machines (VMs) instantly, at scale, to any point in time, saving time and resources.
Volume recovery – A process used to recover an unlimited number of VMs at the same time use for faster recovery; for example, all VMs belonging to an application group.
Virtual Machine Disk (VMDK) recovery – This recovery process ensures all data and apps on a VM are restored quickly.
Bare machine recovery – The process of restoring an entire operating system (software, apps, and data) in one process.
Disaster recovery is the process your IT organization goes through to restore your IT operations. And increasingly, organizations are setting aside a complete or full backup of entire environments either on-premises or in the public cloud — to ensure all their applications, data, and configurations could be made available, quickly, in the event of a catastrophe.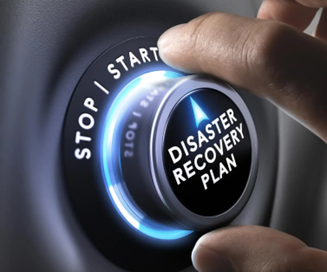 Data is essential to organizations of all types and sizes. You need a robust backup and disaster recovery plan because it provides a roadmap for the people responsible for taking charge in a disaster scenario to know who is doing what and in what sequence to restore operational functionality. Your DR plan should include both people and processes, serving as a guide for employees to follow as they bring your business back up.
Data powers your organization and your competitive advantage. That's why backup and recovery is important. With a robust backup and recovery strategy, roadmap and dynamic playbook in place, your organization can have a solid foundation for ensuring your future as a going concern.
It is recommended you validate recovery of your data and applications one by one assuming you have backup in place. Several organizations we have worked with over the years were confident they could recover their data. However, when we proceeded with validation, they were surprised that recovery was not possible.
*** DON'T GET CAUGHT SHORT! ***
Control what you can't with IT backup and recovery services for your business. We can't control the weather, but local agencies can take steps to make sure hurricanes, tornadoes, and earthquakes don't cause significant outages for your business.
There are backup generators, alternate power sources and grids to leverage to keep your business operational. The same thought applies to another variable: people. We can't control what other people do, but we can take preventative measures to mitigate mistakes that could otherwise lead to a catastrophe. Businesses can educate their personnel about how to spot a phishing email or avoid clicking on a malicious link, which could invite a ransomware attack. But what about the things you don't see coming? There are a host of old, new and evolving considerations for organizations that count on business continuity, such as keeping their systems online and running no matter what.
Case in point: no one expected remote work to scatter teams beyond the traditional digital safety of an office — essentially overnight. We can help you to stay ahead of the unknown.
Having go-to professionals to keep your home safe — plumber, electrician, roofer, etc. — is the norm. Most people rely on pros. For our clients, the same thinking applies to keeping their work environment connected and safe.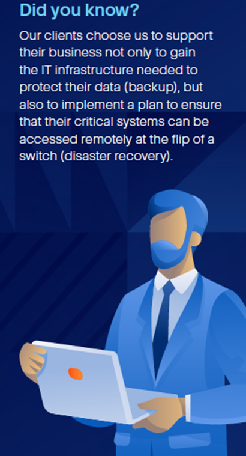 Control what you can't with IT disaster recovery services for your business!
Did you know?
Our clients choose us to support their business not only to gain the IT infrastructure needed to protect their data (backup) and validate its recovery but also to implement a plan to ensure that their critical systems can be accessed remotely at the flip of a switch (disaster recovery) supported with a step-by-step guide (playbook).
Here are the top three reasons why businesses work with us to access disaster recovery (DR) services.
Avoid costly downtime
If you lose power for even 30 minutes, what's the cost to your organization? While your data may be secure via a backup, accessing that information takes more time than you might realize. By engaging our disaster recovery services before they're needed, we can take the time to do the math so it's clear which core business systems you can't live without. Then, when disaster strikes, we'll be ready to restore those systems almost instantly — so the impact to your bottom line is negligible.
Ensure data privacy and compliance
You can't afford to lose customer data or a security breach, and non-compliance can cripple your reputation and your business. Our DR services are designed to reduce this risk. Plus, the solution we employ includes a data authenticity tool, so you can rest easy knowing that all the data that's restored is complete, accurate and uncompromised — a threat posed by many sophisticated cyberattacks.
Rest easy with a plan in place
While our disaster recovery services are bespoke, our services typically include:
Risk assessment and a business impact analysis, to identify your mission-critical business data, systems, and applications

Automated DR orchestration and production failover to an appropriate, alternate location

A step-by-step dynamic playbook detailing individual application recoveries and a complete DR recovery.

Execution monitoring, regular testing, and recovery exercises - and more
GAIN CONTROL

Disaster recovery services are as essential today as having an internet connection — and working with us, it's affordable too. We invite you to learn more by contacting us at 1 416 865-3392 or by email at info@triparagon.com.
Tri-Paragon Inc.
www.triparagon.com