Protect Your Data from Any Threat with A Single Solution
Data protection is the process of safeguarding important information from corruption, compromise, or loss. The importance of data protection increases as the amount of data created and stored continues to grow at unprecedented rates. There is also little tolerance for downtime that can make it impossible to access important information.
Consequently, a large part of a data protection strategy is ensuring that data can be restored quickly after any corruption or loss. Protecting data from compromise and ensuring data privacy are other key components of data protection.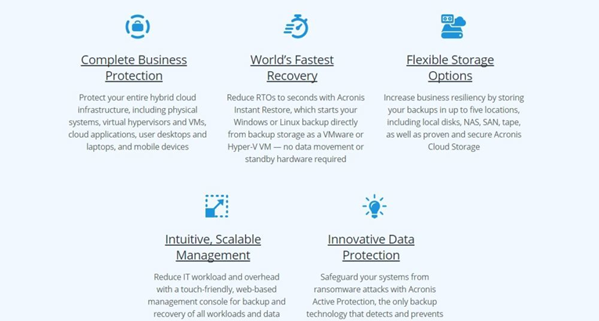 Managing cyber protection in a constantly evolving threat landscape is a challenge. Safeguard your data from any threat with Acronis Cyber Protect – the only cyber protection solution that natively integrates data protection and cybersecurity.
Eliminate gaps in your defenses with integrated backup and anti-ransomware technologies. Safeguard every bit of data against new and evolving cyberthreats with advanced ML-based protection against malware. Streamline endpoint protection with integrated and automated URL filtering, vulnerability assessments, patch management and more.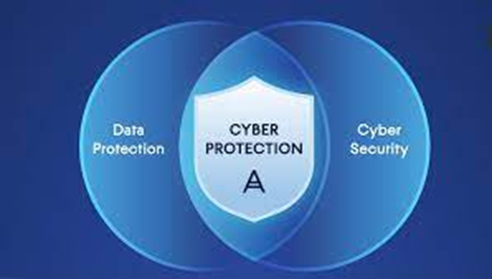 Anti-malware and antivirus
Proactively protect your data, applications, and systems from advanced cyberattacks. With Acronis Cyber Protect, you gain real-time protection with MI-based static and behavioral heuristic antivirus, anti-malware, anti-ransomware, and anti-crypto jacking technologies.
Fail-safe patching
Eliminate the risk of bad patches rendering a system unusable. Before patches are implemented, an image backup is automatically performed – enabling you to easily restore and roll back to a working state if there is an issue with a patch.
Forensic backup
Simplify future analysis by collecting digital evidence – like memory dumps and process information – from disk-level backups. With Acronis Cyber Protect's Forensic Mode, you'll manage compliance requirements and run faster internal investigations.

Safe recovery
Avoid malware reinfection by automatically patching the machine and then scanning your system and backup images using the latest anti-malware definitions.
Continuous data protection
Safeguard new data as it's created. Acronis' agent monitors every change made in the listed applications and continuously backs them up so recent changes aren't lost if the machine needs to be reimaged.
Global threat monitoring and smart alerts
Benefit from the global network of Acronis Cyber Protection Operation Centers (CPOC) by receiving real-time alerts on malware, vulnerabilities, natural disasters and other global events that may affect data protection.
Data compliance reporting and data protection map
Ensure compliance reporting by getting detailed information about stored data and use automatic data classification to track the protection status of important files.
Global and local allowlists from backups
Scan backups with advanced anti-malware technologies (MI, behavioral heuristics, etc.) and allowlist your organization's unique applications to avoid future false positives.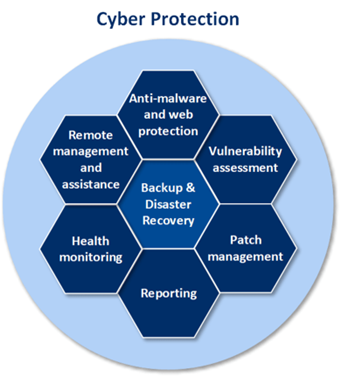 Don't take our word for it. Here is what Phil Goodwin, Research Vice President, Infrastructure Systems, Platforms and Technologies Group at IDC says "We believe that Acronis Cyber Protect is among the most comprehensive attempts to provide data protection and cyber security to date."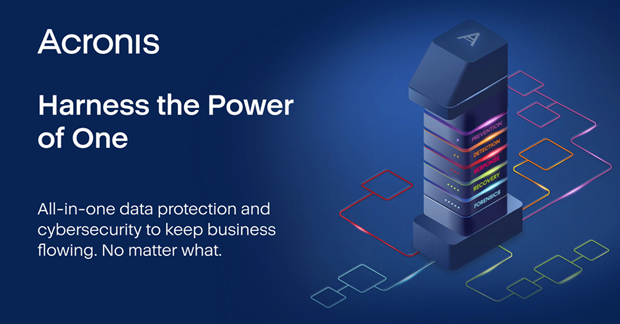 Explore how integrated cyber protection eliminates complexity challenges, delivers better protection against today's cyberthreats, and maximizes efficiency by saving you time and money.
We invite you to learn more by contacting us at 1 416 865-3392 or by email at info@triparagon.com.
Tri-Paragon Inc.
www.triparagon.com